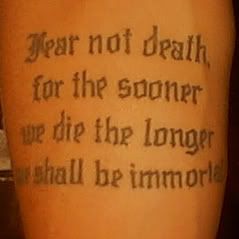 SO WRITERS BLOCK IT IS... HAVE NOT WRITTEN IN AGES!! OR SO IT FEELS... IN MY HEAD HAVE BEEN VOLUMES OF NONSENSE.. BUT NONE THE LESS IT IS HERE, NO WILL TO WRITE, NO DESIRE...TRANSFER OF ADDICTION? I DUNNO... ALCOHOL HAS BEEN THERE THOUGH...WHICH ADDICTION IS IT THIS WEEK... JUST FINISHED ANOTHER BEER.. HOLD ON... DOWN A FLIGHT OF STEPS AND ACROSS THE KITCHEN TO THE FRIDGE... THIS WILL FEEL LIKE THE MOMENT IN THE FILM K-PAC... SEE IM BACK, SIX MINUTES JUST WENT BY AND ONLY A BLIP IN TIME FOR YOU... ANYWAY...

I WAS GOING THROUGH AND OLD BOOK... TITLED "BOOK OF ZACK" (LOOKING FOR STUFF I MAY HAVE WRITTEN ABOUT MY MOM, AND STUMBLED ON SOME OLD THOUGHTS...) WOW... HERE IS SHIT I HAVE NOT EVEN THOUGHT ABOUT UNTIL THAT MOMENT BUT NOW I COULD RECITE IT WORD FOR WORD LIKE I WAS WORKING IT OUT FOR THE FIRST TIME!! WANNA HEAR SOME.. TOO BAD, HAHAHAHA..MAYBE ITS SOMETHING ILL START TO DO...WRITE OLD FEELINGS IN HERE TOO... MOST LIKELY IT WILL BE SOMETHING I START AND DONT FINISH...

THIS WAS IN A SECTION OF THE BOOK WHERE I HAD WRITTEN FIVE PIECES... NONE OF THEM DATED AND ALL WITH DIFFERENT PENS... WHEN I WAS WRITING THAT BOOK I DIDNT WANT IT TO BE CHRONOLOGICAL, I WANTED IT TO BE JUMBLED AND NOT IN ORDER, LIKE WHAT HAPPENS UP THERE... IN BRAINLAND... BUT OTHER STUFF I HAD WRITTEN IN THE "METALLIC BLUE PEN" WAS AROUND JUNE TO JULY OF OH SIX... POWERFUL PIECE, NOT LIKE THE CRAP I POST HERE BUT SOMETHING THAT IM SURE PEOPLE MIGHT WONDER...

POUNDING HAMMER IN MY HEAD
REMINDS ME OF ALL WHO ARE DEAD
GRINDING WHEELS OF BLOODY HELL
I STILL REMEMBER HIS AWFUL SMELL
BLASTING SOUNDS OF HIS STEEL GUN
SOMETIMES I WISH I WOULD HAVE LET HIM RUN
GURGLING GASPS OF AIR NOT THERE
DRAGGED HIM OFF BY HIS HIPPY HAIR
"FUCK YOU MAN YOU PIECE OF SHIT"
"ON YOUR SHALLOW GRAVE I SPIT"
I GAVE YOU PEACE
YOU GAVE ME HELL...
FROM THE HEAVENS MY SOUL HAS FELL
YEAH... I KNOW, WHAT THE HELL AM I WRITING THAT IN HERE FOR... I HAD WRITERS BLOCK AND NEEDED SOMETHING TO PUT DOWN TONIGHT... NEEDING QUIET... NEEDING SOMETHING ELSE TO THINK ABOUT... NEEDING TO KNOW THAT TEN YEARS AGO I WAS FUCKED THEN TOO... IVE FOUND SOME POEMS THAT I WROTE BACK THEN... AND THEY ARE FUNNY NOW, AND SOME MUSINGS THAT ARE WELL MORE DISTURBING THEN THAT... BUT I THINK TONIGHT I WILL END THIS ONE WITH ONE OF "MY FEW THOUGHTS ON DRINKING..." (A FEW PAGES WERE SCRIBBLED OUT WITH THAT TITLE ABOVE...) PERHAPS ILL REWRITE ONE OF THOSE EVERY NOW AND THEN.. GOODNIGHT...


*SOMETIMES I DRINK TO REMEMBER
SOMETIMES I DRINK TO FORGET
SOMETIMES I DRINK TO BE HAPPY
AND AT TIMES I DRINK TO GET DRUNK
BUT NO MATTER WHAT I ALWAYS DRINK*
LAME I KNOW, SO... SORRY...THATS JUST THE ONE I PICKED TO COPY TONIGHT... OH AND BYE THE WAY THAT WAS WRITTEN ON JUNE, TWENTY FIFTH, NINETEEN NINETY EIGHT...DOUBLE OH, TONIGHTS TITLE WAS A PASSAGE OF SOMETHING FROM NINETY EIGHT AS WELL...